The show is a party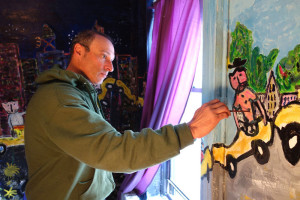 SARATOGA SPRINGS — A Dan Bern show is like going to a party. It's like going to a concert at Carnegie Hall. It's like being in the middle of a Jerry Seinfeld episode. It's like stepping back half a century, into a guitar–picking tale-telling Arlo Guthrie performance of "Alice's Restaurant."
It's like going to Mecca to find a savior.
A Dan Bern show is an indescribable folk adventure into a shared experience of honesty, self-revelation, humor, brilliant songwriting, sometimes haunting vocals and political protest that sheds new light on issues we think about and some never considered, like "the red states have Waffle Houses and the blue states don't."
"My show is my high art," he said in an interview, referring to his live concerts. "It's about connection, entertaining and involvement."
And on Friday night, the Los Angeles singer-songwriter who is living temporarily in Saratoga Springs performed to a packed house at the "new" Caffe Lena.
He has an ease on stage that makes it look like his body is sometimes one with his instruments, as if moving in a graceful dance together. But most obvious of all is that he adores Lulu Bern, his 7-year-old daughter who shared the stage with her Dad and her friend Aurora for several numbers. "I'm Lulu Bern and this is my friend Aurora," she said to the crowd.
The ever-evolving Trump song journeyed to the 21st month of Trump, from wall-building deals and escapades with Vladimir Putin to healthcare for everyone in the 14th month of Trump. "Healthcare for everyone," he sings. "It only covered aspirin and only if hurt while bowling."
The audience hooted, cheered and hollered.
There are the songs that make you feel like you might cry, others that make you feel like going out and protesting and others that are so funny, you laugh about the lines later in the night.
"Have you ever heard him sing, 'A Kid's Prayer?'" one woman asks while in line at the women's room. "Oh my god, go online and listen. It will give you chills."
Another at the merchandise table said to Lulu: "Tell your Dad I used his song for my wedding."
As Bern said, "My show is my high art."
SARATOGA SPRINGS — Nearly 20 years ago, Dan Bern was staying for a couple weeks at New York City's Carlton Arms Hotel on E 25th Street when he was invited to paint a room at the storied hotel like so many other artists have done over the years.
"I thought, 'OK, I'll stay and take a couple weeks and do some paintings on the wall,' " Bern said Wednesday in an interview at his Saratoga Springs home. "I ended up staying eight months."
The way Bern explained it, even though he had never painted before, he believed he would create an impressionistic piece, something like a Monet. But when he got ready to put brush to paint to wall, he realized he didn't know how to paint.
It was a daunting realization that may have stopped others before they even began, but Bern forged ahead and just started painting. Painting over and over and over — for months — in room 3D until he liked it. And that's how he learned to paint.
"My teachers are the Old Masters like van Gogh and Matisse. What more do you need?"
And that's how it has always been for this award-winning songwriter, musician, performer, poet and painter. If he is interested in creating something, he just figures it out.
Perhaps it starts with the seduction of an idea — a glint or a glimmer that catches him, beckoning him closer. And before long, he is excavating the connective pieces and building a new creation, one nugget on top of the next.
"To me, it's all puzzles in a way, like having to find the next solution. I like crosswords and it's like that … it's really words, ideas, sounds and melodies that meet," he said. "It's the greatest puzzle."
After a few minutes with Bern, it's easy to be lulled into the feeling that anything is possible. It's the way he just calmly leans back, sips rich coffee from a mug, eats a few Girl Scout cookies and smiles a half-crooked smile, as if saying without saying, "Sure I can do that."
He has that deep knowing reserved for those in tune with the rhythm of things greater than what is visible, of things that come from the soul of the earth, from an artist.
Until last summer, Bern, his wife Danielle Lesniewski, their daughter Lulu Bern and family cats Scooter and Coco were living in Los Angeles. But for family reasons, they moved eastward this past summer.
Still, Bern barely skipped a beat.
He's booked in famed New York, New Jersey, Maryland and Massachusetts venues this spring and summer and he just wrapped up a local concert at Saratoga Springs' Caffe Lena this past Friday.
Bern has a regular songwriting gig with Amazon Prime's original children's animated series "The Stinky & Dirty Show." There's a new record in the works, and plans are evolving for a marathon art and music event that will highlight his collection of more than 200 portraits he has painted of political, literary and philosophical icons mysteriously appearing in his songs. There are presidents like Richard Nixon and Donald Trump and poets like Frederico Garcia Lorca.
Bern said that at some point, he realized characters in the portraits he was painting were also appearing in the songs he was writing.
"It will be like a marathon of songs of all these people flying around the room," he said. "I never intended to write with these people in the songs."
Back to room 3D at the Carlton Arms, three years ago Bern and Lulu, who was 4 at the time, returned to repaint the walls. "I asked Lulu, 'What should we paint?' and she said, 'Cats in taxis.' "
And that's the story they created on two walls.
One wall featured the city by day, the other the city by night. And on each wall, they created a lively, near madcap tale of the adventures of taxi-driving cats romping through the city streets.
The high art of performance
Because Bern expresses his creativity in many forms, he likens it to the work of a carpenter.
"One day you make a table, the next a couch," he said. "Each approach is different, but they are related."
Creating music started when he learned to play the cello at age 6, but it really took off when he learned the guitar at 14.
"My first love was the Beatles. But I was one person learning to play the guitar," he said, adding that John Lennon and Paul McCartney had each other.
But then he discovered Bob Dylan and Woody Guthrie. "I could draw the thread from what they were doing and relate it to what I could do," he said, referring to Dylan and Guthrie. "(Their music) said to me, 'Here's a way you could do this,' and that was my incentive to learn the guitar. It was suddenly clear."
Bern continued.
"Dylan didn't have limitations and his music was coming out in a free way and I related to that," he said, acknowledging he approaches most things that way as well. "I had a good education, but I was never overly trained in things. I pick it up by what's around me. I had a few writing classes in college but found after awhile they were getting in the way."
Since his days of listening and learning — although he's still listening and learning — Bern has released some two dozen studio albums, EPs and live recordings since his first Sony-distributed CD in 1997. His recordings have featured a host of artists ranging from Ani DiFranco to Emmylou Harris, and he has devoted entire albums to baseball ("Doubleheader"), politics ("My Country II") and little kids ("2 Feet Tall").
His songwriting led to stints working on such projects as the Judd Apatow feature "Walk Hard: The Dewey Cox Story" starring John C. Reilly, and "Get Him to the Greek" starring Russell Brand. Not to mention "The Stinky & Dirty Show."
To listen to his songs is like listening to a story told by a combination of Bob Dylan, Johnny Cash and Wayne Hancock. There is love, there is humor, there is irony and deep meaning.
His vocals are rich, sometimes raw and always honest. There are times that a Dylan twang emerges, but that is always gone right after recognizing it. With a blend of country, rock, folk and poignancy, his style is unique and powerful. And he has been written about in national publications like The New Yorker, Rolling Stone, Variety, Esquire and The Washington Post.
In his newest album, he is working with an orchestrator.
On headphones, the track "Regent Street," which was written while Bern was in London, transports the listener. In its quiet, near-haunting opening, there's a faint memory of the tick-tock of Pink Floyd, but as it progresses, there is a lot of Bern in a new kind of protest song that warns, "don't go down to Regent Street."
"I feel for me, today requires a new language; the old method of protest writing doesn't feel like it is completely going to do the trick," he said. "Every record I make, I feel like approaching it differently."
Integrating the pieces
In 2016, Bern was honored with the ASCAP Foundation's Joe Raposo Children's Music Award. The song "You Can Do It," a song written for "The Stinky & Dirty Show" that repeats in most episodes, was selected as the children's song of the year.
Working with the show — about friends Dirty, a back hoe loader, and Stinky, a garbage truck — started when someone suggested he take a stab at writing the pilot's theme song. And now he writes songs for every episode.
Currently in season two with such noted voices as Whoopi Goldberg, Jane Lynch, Andy Richter and Joan Cusack, the show has also won several awards.
Bern said it is a different process because each song goes through approvals from four or five departments before it is approved for the show.
"It's a lot of fun and a lot of work, but I wouldn't trade it for the world," he said.
To make it even better, Lulu loves the show.
"Originally they were books, which she also loves," he said. "And now she helps me by singing some of the backing vocals for my Stinky and Dirty demos."
It might seem that his plate is more than full.
But just recently his radio station, "Radio Free Bernsteinn," went live, and he has so much content already programmed into the station that it can loop for over a week before anything repeats, he said.
In less than an hour of listening, the station is alive with an eclectic blend of old-time country recordings, folk ballads, Marilyn Manson's "Sweet Dreams," the Eurythmics' "Sweet Dreams," Dan Bern and in-studio live recordings.
Additionally, Bern cuts into the station live from wherever he is that day.
"I always wanted a radio station," he said.
So where does he go from here?
It's hard to say. But one thing is certain: art will remain.
"We all need music in our lives," he said. "Songs, art, dance — these are the things that make us human."
_Kathleen Phalen-Tomaselli