Menorah in the Middle may play into holiday movie tropes but this Chanukah film is one that knows what its audience wants.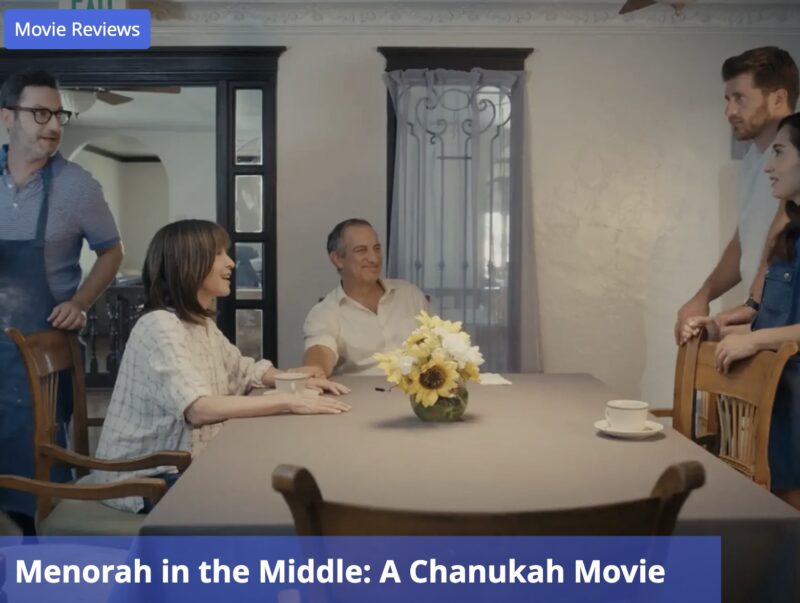 The romantic holiday movie makes its exclusive premiere on Hulu as a licensed title. What this means is that the film isn't a Hulu original. At some point, there will be the chance that it will no longer be on the streaming service. Until then, feel free to watch the film as many times as you want! Chanukah doesn't start until the evening of December 18 but the film has a head start on this year's Hallmark movie. Why Hulu is launching so early, I don't know but I'll take it! One thing that Jewish viewers will appreciate about the film is that the major Jewish roles are portrayed by Jewish actors. The casting adds a level of authenticity to the film rather than coming off as a stereotype.
Sarah Becker (Lucy DeVito) heads home to visit her family for Chanukah with a surprise–she's engaged. Her non-Jewish fiancé, Chad (Christián de la Fuente), gets a pop quiz on everything Chanukah and Becker family on the flight to Sol Viejo. The quiz certainly is not as easy as he would like. But again, nothing comes easy for anyone about to marry into a Jewish family! It's not long before arriving back home that Sarah learns that the bakery might have to shut down. It's been a nice run but nobody wants it to end. Making matters worse is that her dad, Frank Becker (Bruce Nozick), ends up in the hospital almost as soon as Chanukah begins. Let's not talk about why.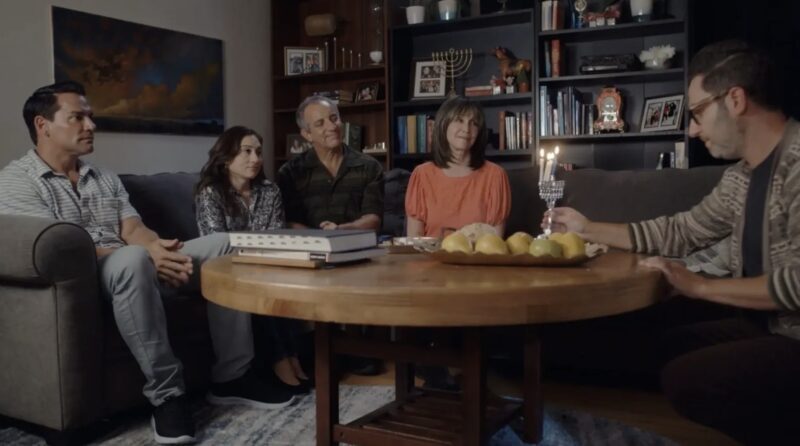 L-R: Chad (Christián de la Fuente), Sarah (Lucy DeVito), Frank (Bruce Nozick), Linda (Gina Hecht), and Jacob (Adam Busch) in Menorah in the Middle. Courtesy of Bungalow Media.
Chad comes from the world of finance. As such, he wants to help the family out in whichever way possible. His plan? To marry Sarah and take over their mortgage. Listen, this film plays into such movie tropes that it does not take long before you see his true colors. While back in town, Sarah has been hanging out with childhood best friend Ben (Jonah Platt). They have history but everything changed after her grandmother died. Ben realized this and so he kept his distance. Sarah went to college and Ben became a travel photography. He moved back to SV maybe one year before Sarah came home for the holidays. Like many cities, the small businesses are struggling. For the bakery, the next generation moved out. It's tough keeping a Jewish family-owned bakery alive with aging customers.
All hands are on deck when the Beckers need to raise $40,000 to pay their bank payment. Sarah and Ben end up with marketing duties. Between his photos and her food blog, Blend It Like Becker, the two go straight to work. They also take into their Camp Shalom network in order to drive up business. It does not take a fool to notice what's happening between the two of them. Plus, Jonah Platt gets second billing in the opening credits. In watching the film, it's not really a question of if but when.
With all of the phone calls and advertising to save the bakery, the Baum sisters get a phone call from their mother. Rachel Baum (Sarah Silverman) and Becky Baum (Laura Silverman) grew up to be cooks after falling in love with rugelach at Becker Family Breads. Frank's always bragging about how they used to stop by the bakery every day. Will they help repay the favor all these years later? Watch the film and find out!
Menorah in the Middle is a refreshing holiday movie in so many ways. Unlike the last few Hallmark Chanukah movies, there is no Xmas being forced into the film. Well, maybe on the cooking show but the film does not otherwise force it anywhere else. It's a welcome relief after the last few years of holiday movies that basically cater to Hallmark's non-Jewish audience. Writer-director Jordan Kessler knows his audience here. He knows what people are looking for in a movie and yes, he plays it a bit too close to genre tropes. But at the same time, Lucy DeVito and Jonah Platt bring a level of charm and chemistry into the film to win us over. Plus, you have the Silverman sisters! Musically speaking, Dan Bern, who contributed to Walk Hard, writes and performs the original songs, including a closing tune that features a number of the cast.
DIRECTOR/SCREENWRITER: Jordan Kessler
CAST: Lucy DeVito, Jonah Platt, Christián de la Fuente, Adam Busch, Gina Hecht, Bruce Nozick, Laura Silverman, Sarah Silverman